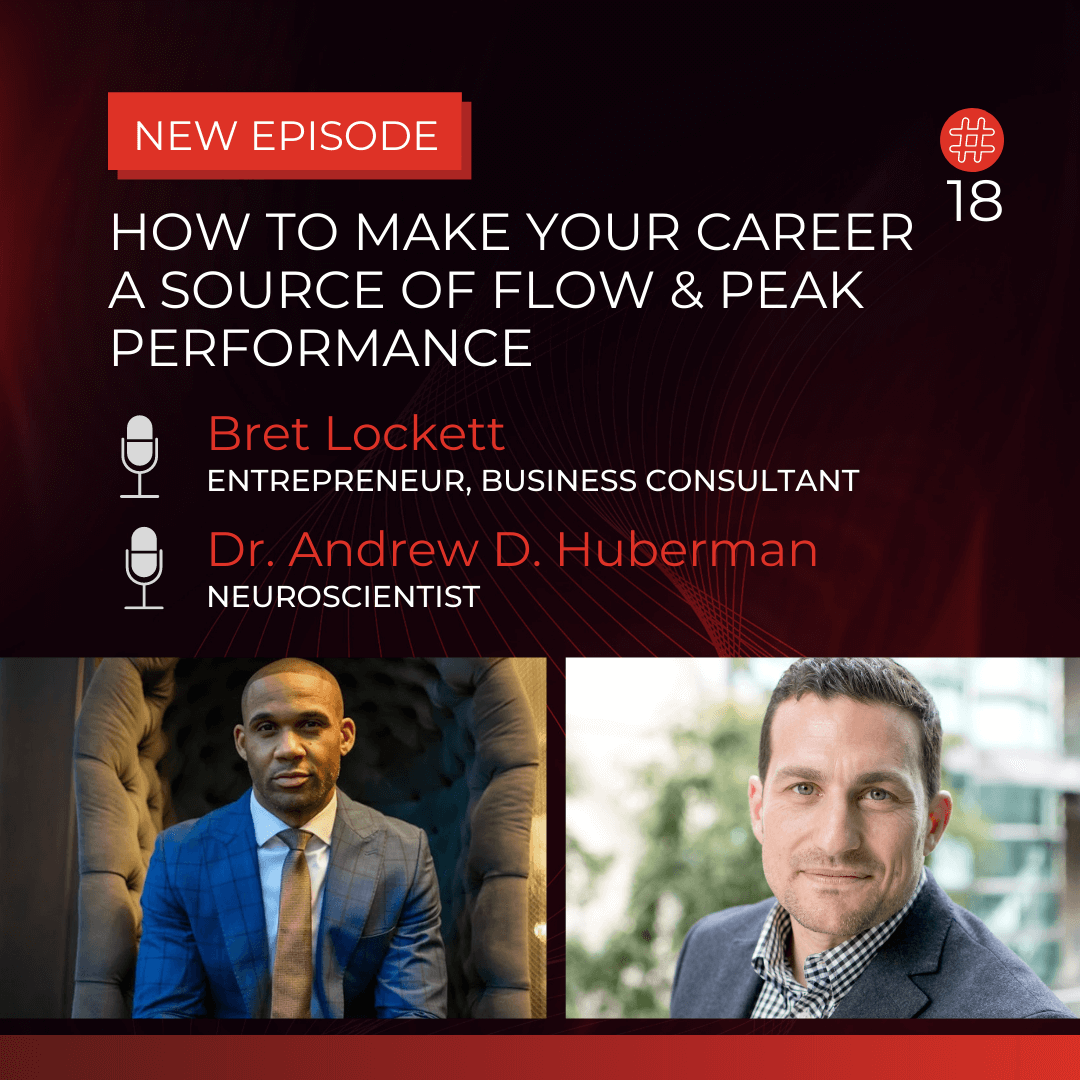 Join our flagship cognitive performance training.
👉 Zero to Dangerous helps you accomplish your wildest professional goals while reclaiming time, space, and freedom in your personal life.
Have you ever wondered how you can turn your career from a necessity into a source of inspiration?
Would you like to be your best self at work instead of tired, burnt out, overworked, and stressed?
Would you like to know what it takes to skyrocket your productivity?
If yes, then flow is the answer you have been looking for.
In this episode, we are talking with former NFL player Bret Lockett and Stanford neuroscientist Andrew Huberman about living and working in the zone.
Bret Lockett is a leading business consultant, speaker, entrepreneur, and former NFL player.
Andrew Huberman, Ph.D., studies comparative neurology at Stanford University to better understand the human brain and human brain evolution.
We will share tools that allow you to turn your career into an opportunity for flow and peak performance.
We will cover how to ensure that every challenge in your career is an inflection point.
We discuss how you can embrace risk and start healthy risk-taking.
And we also share how to structure your day and work environment for deep work.
This episode will help you do your most ambitious professional goals by unlocking peak performance.
In this episode, you will learn about: 
Tap into flow in different environments (5:53) or being a peak performant in different environments 

Needing mastery for flow (10:08)

Learning to be an observant (13:00)

Underlying universal skills (18:51)

Forms of ego (21:06)

Resource allocation (24:22)

How to stay craft-focused (25:32)

How to develop focus (29:55)

Learning to tolerate discomfort (31:17)

How important are our goals (34:53)

The goal-setting theory (39:00)

Turn passion into purpose (41:41)

The importance of focusing (52:58)

Flow triggers & flow blockers (57:16)

Flow & fear (1:00:15)

Negative feedback (1:13:36)
OUR FLOW TRAINING
We are currently accepting new participants in our flagship flow training: 👉  Zero to Dangerous.
Our science-backed peak performance training is for entrepreneurs and knowledge workers like you wanting to accomplish their wildest professional goals while reclaiming time, space, and freedom in their personal life.
In Zero to Dangerous,
You'll work one on one with our Ph.D. level peak performance coaches. They'll help you implement flow practices and push you to where you want to go—and far beyond

You'll master the maps and models of peak performance through our online video course.

You will get lifetime access to weekly calls with our community of peak performing business leaders who provide you with accountability, support, and feedback.
After the training, you will be able to access flow states on-demand, so you can spend your entire workday in that hyper-focused zone and say goodbye to the distractions of politics, colleagues, and trivial nonsense.
To apply for Zero to Dangerous, go to 👉  getmoreflow.com/ to book a call with our team who will help you assess if is a good fit for you.
Rooting for you!