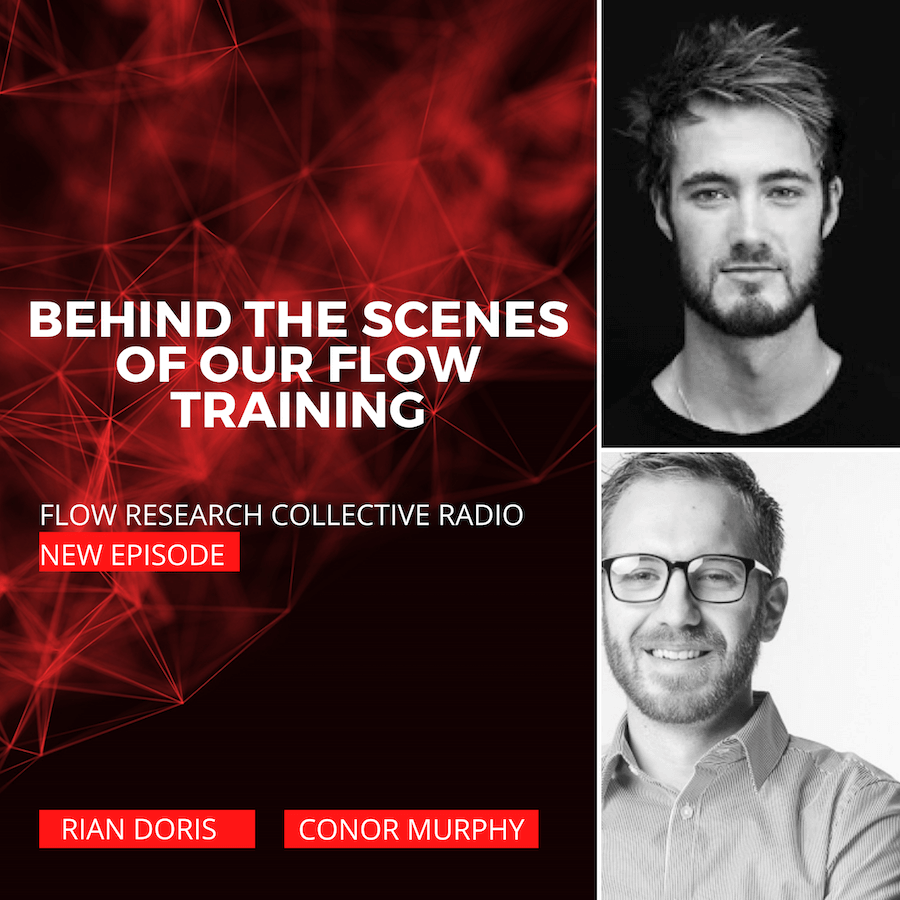 We are super excited about this week's episode.
This episode is a discussion between our Chief Science Office here at Flow Research Collective, Conor Murphy, Rian Doris and Andrew Skotzko.
This one is a table turn—Andrew is actually interviewing myself and Conor for his podcast ENLIVEN—which you should check out by the way. 
Andrew is, as you'll find out, an incredible interviewer. Due to his charm and interviewing, we ended up riffing for three hours straight on all things flow science and peak performance. 
It's a great opportunity to get to know Rian and Conor a little better.
We talk about all sorts of things:
The programmable nature of the human condition and what knobs and levers you wanna use to program yourself for optimal functioning

Whether flow hacking is a probabilistic or mechanistic process

The role data plays in peak performance and more!
So it's a good one. In case you are wondering… this episode is very much related to our flow training.
ABOUT THE GUESTS
Rian Doris is a Co-Founder of the Flow Research Collective.
Rian lives at the intersection of entrepreneurship and academia—from starting his first business at age 18 to studying Philosophy in Trinity College Dublin and an MSc in Applied Neuroscience at King's College, London.
On the academic side, Rian has led research initiatives with Imperial College London, University of Southern California, the University of Zurich and Deloitte.
On the entrepreneurial side, Rian has worked intimately with numerous world-leading experts in peak performance such as Keith Ferrazzi, Dr. Dan Siegel, and Steven Kotler, his partner at Flow Research Collective.
Rian has been featured in Fast Company, Forbes, TedX and Big Think.
Conor Murphy is a Co-Founder of the Flow Research Collective lives at the intersection of data science and optimal psychology, using data and technology to understand and reinforce the best parts of human experience.
He transitioned to the tech sector after spending four years leveraging data for more impactful humanitarian interventions in developing countries.
Since then, he has held a variety of positions including a faculty role for University of New Haven and Galvanize's Master of Science in Data Science program, principal data scientist and consultant for a number of startups and a data scientist and educator for Artificial Intelligence at Databricks. 
Outside of data, Conor is an avid skydiver, getting into the sport after reading Kotler's The Rise of Superman.