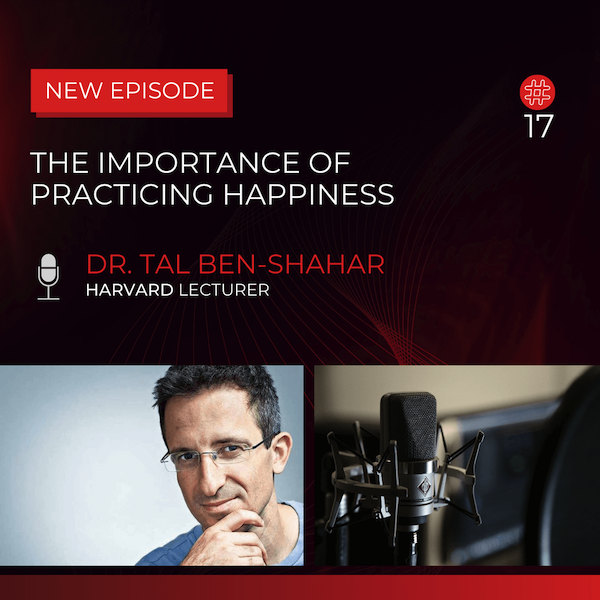 Join our flagship cognitive performance training.
👉 Zero to Dangerous helps you accomplish your wildest professional goals while reclaiming time, space, and freedom in your personal life.
Did you know that the researcher who coined the term flow, Mihaly Csikszentmihalyi, was not even on the hunt for flow? He was looking for something bigger: Happiness.
What he found, however, was that the people with the most flow in their lives are the happiest people.
Today, we are going super deep on the topic of flow and happiness with our guest, Tal Ben-Shahar.
Dr. Tal Ben-Shahar is an American and Israeli teacher, author, and entrepreneur in the areas of positive psychology and leadership.
In this episode, you will learn about:
The 5 elements of happiness (6:01)

Does flow enhances well being? (8:34)

The challenge-skills balance (10:49)

Habits & Rituals (12:01)

The importance of practicing happiness (13:39)

Habits & spiritual wellbeing (15:33)

Meaning in life vs. Meaning of life (21:18)

Common sense is not so common (23:22)

Perceptual shift & flow (26:30)

The foundation of happiness (28:31)

The research of happiness (36:32)

Key habits within the physical, intellectual, and emotional well being (39:46)

The biggest shifts that are made through Tal Shahar course (46:42)

Leadership development at scale (49:55)

 The 3 elements of positive psychology, happiness, peak performance, and leadership development (51:45)

Happiness as the overarching North Star for life (58:13)
ABOUT THE GUEST
Tal Ben-Shahar is an author and lecturer.  
He taught two of the largest classes in Harvard University's history, Positive Psychology and The Psychology of Leadership. 
Today, Tal consults and lectures around the world to executives in multi-national corporations, the general public, and at-risk populations. 
The topics he lectures on include leadership, happiness, education, innovation, ethics, self-esteem, resilience, goal setting, and mindfulness. His books have been translated into more than twenty-five languages, and have appeared on best-sellers lists around the world. 
Tal is a serial entrepreneur and is the co-founder and chief learning officer of Happiness Studies Academy, Potentialife, Maytiv, and Happier.TV.
OUR FLOW TRAINING
We are currently accepting new participants in our flagship flow training: 👉  Zero to Dangerous.
Our science-backed peak performance training is for entrepreneurs and knowledge workers like you wanting to accomplish their wildest professional goals while reclaiming time, space, and freedom in their personal life.
In Zero to Dangerous,
You'll work one on one with our Ph.D. level peak performance coaches. They'll help you implement flow practices and push you to where you want to go—and far beyond

You'll master the maps and models of peak performance through our online video course.

You will get lifetime access to weekly calls with our community of peak performing business leaders who provide you with accountability, support, and feedback.
After the training, you will be able to access flow states on-demand, so you can spend your entire workday in that hyper-focused zone and say goodbye to the distractions of politics, colleagues, and trivial nonsense.
To apply for Zero to Dangerous, go to 👉 getmoreflow.com/ to book a call with our team who will help you assess if is a good fit for you.
Rooting for you!