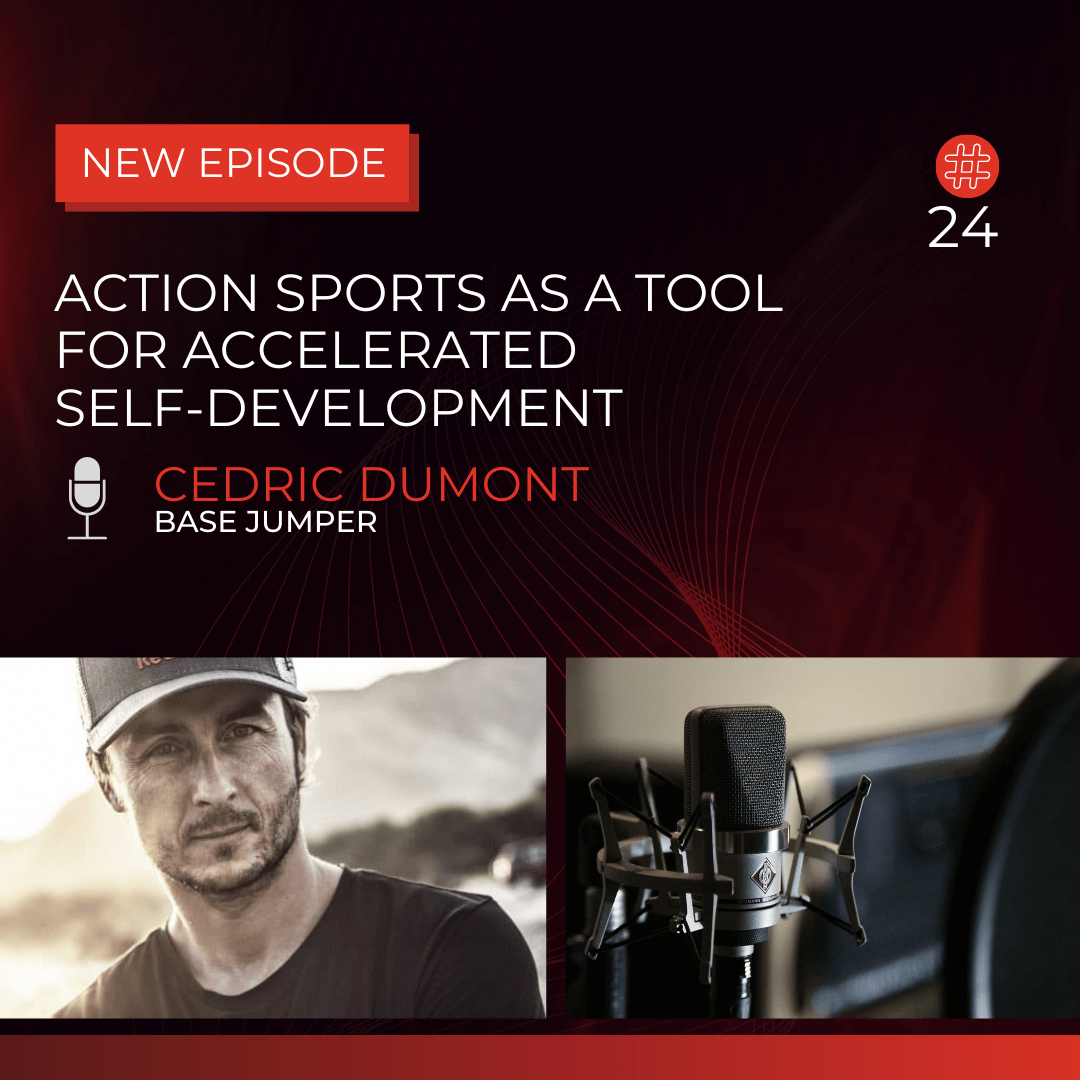 Join our flagship cognitive performance training. 👉 Zero to Dangerous helps you accomplish your wildest professional goals while reclaiming time, space, and freedom in your personal life.
Today, we welcome a true peak performer to share his story: Base jumper, Cédric Dumont. 
He started BASE jumping in 1996, and since completing his first jump has competed in the X Games three times, finished third in the Skysurfing World Cup, and won the Brazilian Open of Skysurfing. 
Cédric has more than 10,000 skydives and 2,000 BASE jumps on his record, always traveling the world in search of new adventures.
He is a true multi-talent: He's always been passionate about flying, but has also been a snowboarder and surfer – he's even claimed a spot on Belgium's national golf team.
Besides being an Action/Adventure Sports athlete, Cédric's degree in Applied Sports Psychology allowed him to begin his coaching vocation by giving professional athletes the mental edge and skills necessary to achieve their goals and unleash their full potential.
His new book "Dare to Jump: Everything You Want is on the Other Side of Fear" is just coming out now, so make sure to check it out.
In this episode, we not only talk about action sports and base jumping but we talk about the practical learnings that business people, entrepreneurs, and knowledge workers can draw from Cederics experience.
Make sure to stay until the end to learn what entrepreneurs and managers can learn from extreme athletes.
OUR FLOW TRAINING
We are currently accepting new participants in our flagship flow training: 👉 Zero to Dangerous.
Our science-backed peak performance training is for entrepreneurs and knowledge workers like you wanting to accomplish their wildest professional goals while reclaiming time, space, and freedom in their personal life.
In Zero to Dangerous, you'll work one on one with our Ph.D. level peak performance coaches. They'll help you implement flow practices and push you to where you want to go—and far beyond.
You'll master the maps and models of peak performance through our online video course.
You will get lifetime access to weekly calls with our community of peak performing business leaders who provide you with accountability, support, and feedback. After the training, you will be able to access flow states on-demand, so you can spend your entire workday in that hyper-focused zone and say goodbye to the distractions of politics, colleagues, and trivial nonsense.
To apply for Zero to Dangerous, go to 👉 getmoreflow.com/ to book a call with our team who will help you assess if it is a good fit for you.
Rooting for you!