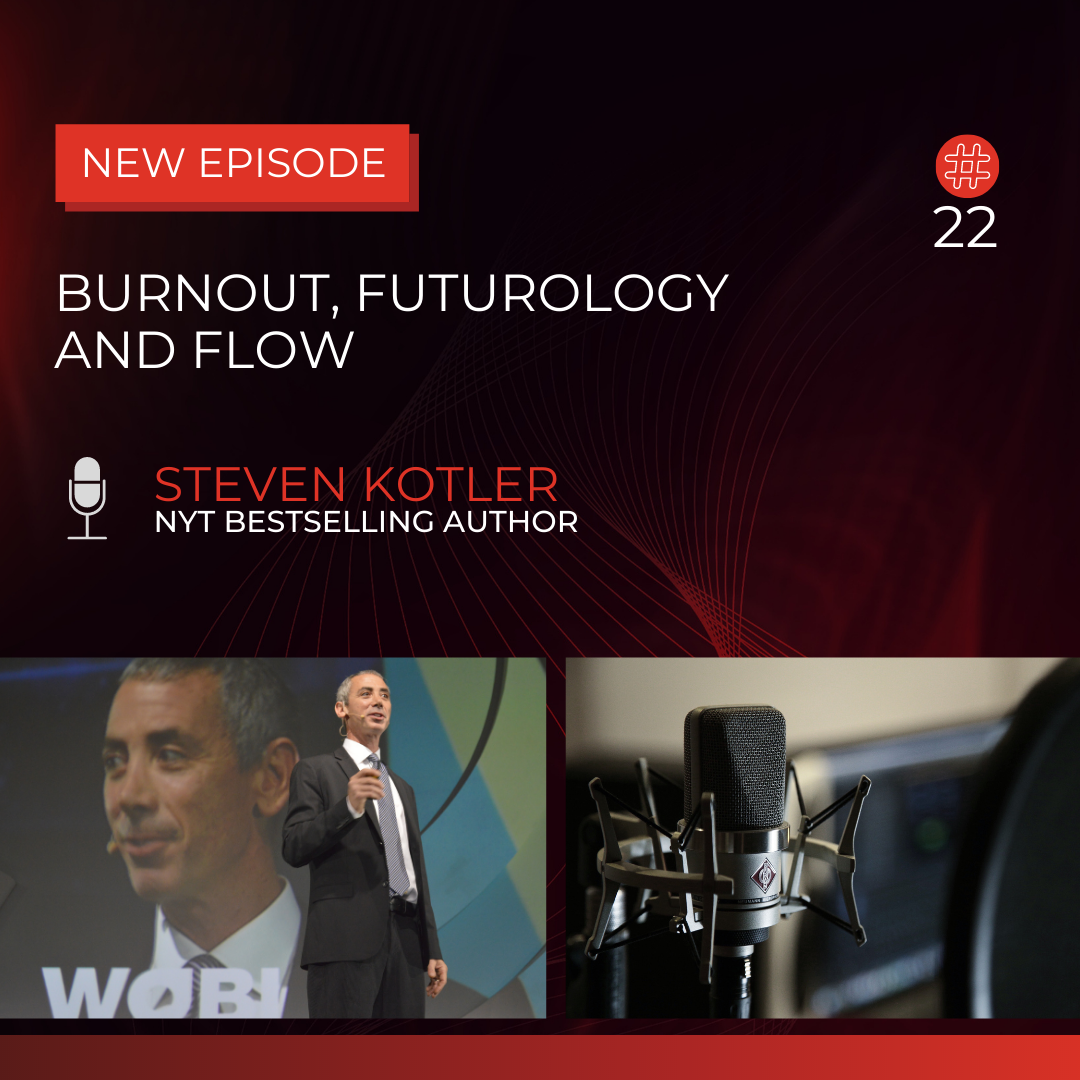 Join our flagship cognitive performance training.
👉 Zero to Dangerous helps you accomplish your wildest professional goals while reclaiming time, space, and freedom in your personal life.

This episode is a fun one because we turn the tables, you're going to hear Steven Kotler, co-founder here at the Flow Research Collective, being interviewed by the guys—Charlie and Ben— behind the famous Youtube channel Charisma on Command. 
Charisma on Command has over four million subscribers on Youtube, and both Steven and Rian have been fans of the channel for years. 
About six months ago at a party in Venice Beach, Rian bumped into Ben, who knew of Steven's stuff, so we set this up. 
Anyways; it's a fun episode and a chance to hear Steven go into topics he doesn't often delve into as much:
From futurism and Steven's book, The Future is Faster Than You Think, to dopamine abuse, psychedelics, drugs, and the backstory Steven's book Stealing Fire.
One of my favorite bites just in the beginning is Steven talking about Tune in, turn on, go to a bake sale - so make sure to catch that moment.
ABOUT THE EPISODE
In this episode, you will learn about:
Shifts in perception (1:11)

The hardball reaction (2:53)

The Future is Faster Than You Think (6:06)

The biggest migrations in human history (9:33)

The transportation change (14:38)

Dopamine in the sense of bonding (17:26)

Altered states of consciousness (21:45)

Psychedelics vs. Flow (24:26)

What is Flow? (27:31)

Flow Triggers (31:47)

Risk and flow (37:55)

Tech and morality (40:29)

The history of evolution (55:56)

Lean deeper into your craft (1:01:05)

Quantum dynamics (1:03:40)

Dealing with burnout (1:06:02)

How to sustain flow (1:08:50)

The passion recipe (1:11:08)

The future of AI (1:16:55)
ABOUT THE HOSTS
Charisma on Command: Charlie and Ben help millions of people around the world to turn on their most confident, charismatic self in the moments that matter most.
OUR FLOW TRAINING
We are currently accepting new participants in our flagship flow training: 👉Zero to Dangerous.
Our science-backed peak performance training is for entrepreneurs and knowledge workers like you wanting to accomplish their wildest professional goals while reclaiming time, space, and freedom in their personal life.
In Zero to Dangerous,
You'll work one on one with our Ph.D. level peak performance coaches. They'll help you implement flow practices and push you to where you want to go—and far beyond

You'll master the maps and models of peak performance through our online video course.

You will get lifetime access to weekly calls with our community of peak performing business leaders who provide you with accountability, support, and feedback.
After the training, you will be able to access flow states on-demand, so you can spend your entire workday in that hyper-focused zone and say goodbye to the distractions of politics, colleagues, and trivial nonsense.
To apply for Zero to Dangerous, go to 👉 getmoreflow.com/ to book a call with our team who will help you assess if is a good fit for you.
Rooting for you!