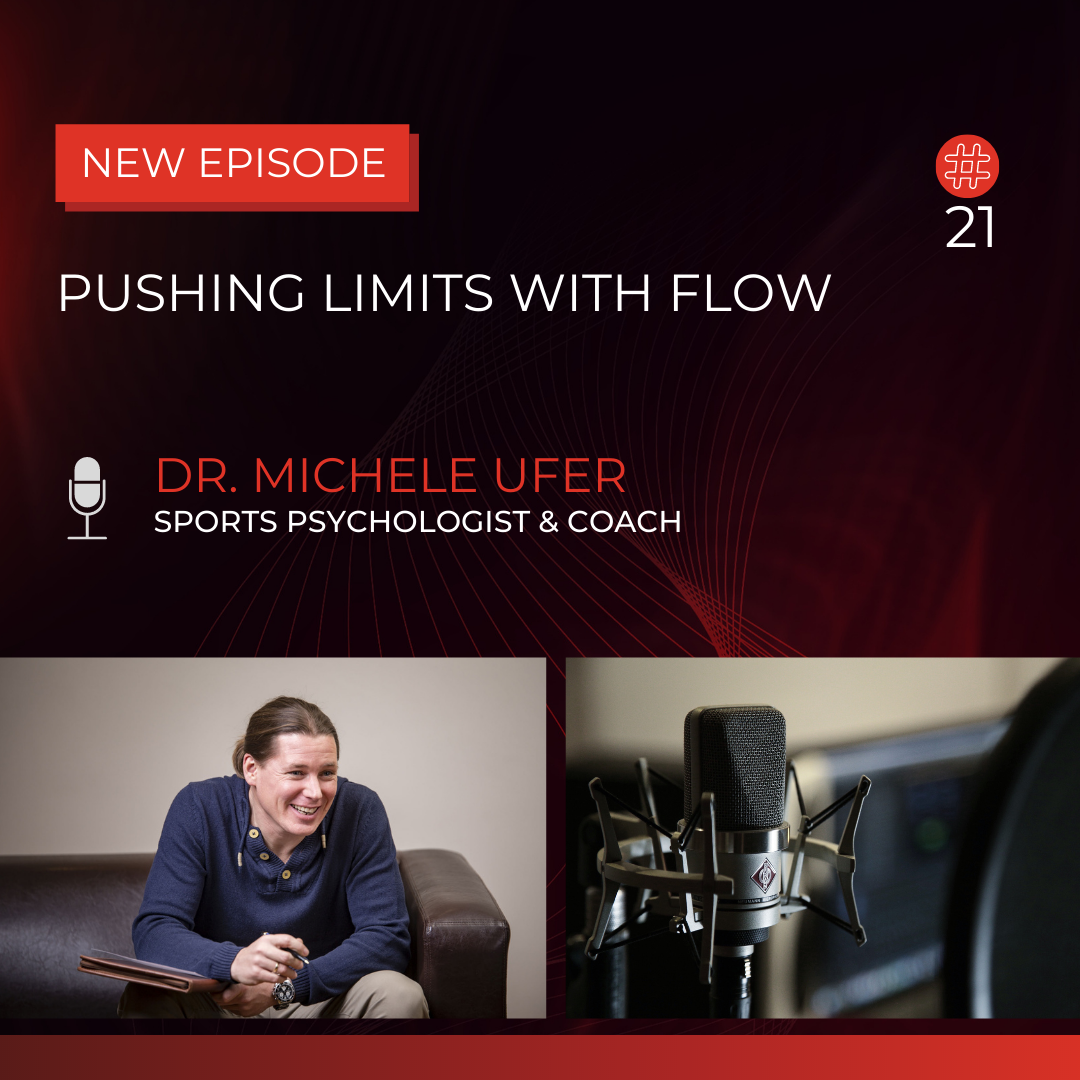 Join our flagship cognitive performance training.
👉 Zero to Dangerous helps you accomplish your wildest professional goals while reclaiming time, space, and freedom in your personal life.
Today's guest is a treat and a true flow scientist. And I am not just saying that: Our guest Dr. Michele Ufer is a runner, performance coach, and researcher that studies all things flow. 
Recognizing, testing, and overcoming limits – that's what Dr. Michele Ufer is all about.
As a scientist he researches the subject of limits, as a successful extreme runner he tests his research on his own body, and as a coach, he has the expertise gained from 20 years of professional experience.
What skiing is for Steven, running is for Michele.
He has written 6 books on hunting flow, some in English, many of them in German. One of his German books is called "flow hunter" which we find a pretty cool name for all of us flow hackers and impossible seekers.
In this episode, we hear how he defines flow, how self-talk impacts the challenge skills balance, and lots more.
In this episode, you will learn about:
The 250 k race in the Atacama Desert (4:35)

Michele's journey into research (11:00)

What is flow? (14:14)

Mental training (15:35)

Self-hypnosis (18:02)

The right techniques to get into flow (18:32)

The top golden motivational tip (20:46)

Michele's coaching protocol (21:19)

How to achieve peak performance (24:44)

The power of self-talk (27:26)

Self-talk and the challenge skills balance (31:31)

Michele's mental training (38:38)

The power of flow (43:47)
ABOUT THE GUEST
Dr. Michele Ufer is an internationally sought-after expert in sports and management psychology and a successful ultrarunner. As a speaker, coach, and mental trainer, he motivates athletes, executives, and other high performers, promoting top performance. As a runner and someone who pushes his own boundaries, he is attracted by challenges beyond the marathon distance or at great heights. Whether it's a desert, rainforest, Himalayas, or the polar circle, Michele Ufer is at home on the most extreme running tracks. He has regularly achieved the top 10 ratings.
OUR FLOW TRAINING
We are currently accepting new participants in our flagship flow training: 👉Zero to Dangerous.
Our science-backed peak performance training is for entrepreneurs and knowledge workers like you wanting to accomplish their wildest professional goals while reclaiming time, space, and freedom in their personal life.
In Zero to Dangerous,
You'll work one on one with our Ph.D. level peak performance coaches. They'll help you implement flow practices and push you to where you want to go—and far beyond

You'll master the maps and models of peak performance through our online video course.

You will get lifetime access to weekly calls with our community of peak performing business leaders who provide you with accountability, support, and feedback.
After the training, you will be able to access flow states on-demand, so you can spend your entire workday in that hyper-focused zone and say goodbye to the distractions of politics, colleagues, and trivial nonsense.
To apply for Zero to Dangerous, go to 👉 getmoreflow.com/ to book a call with our team who will help you assess if is a good fit for you.
Rooting for you!