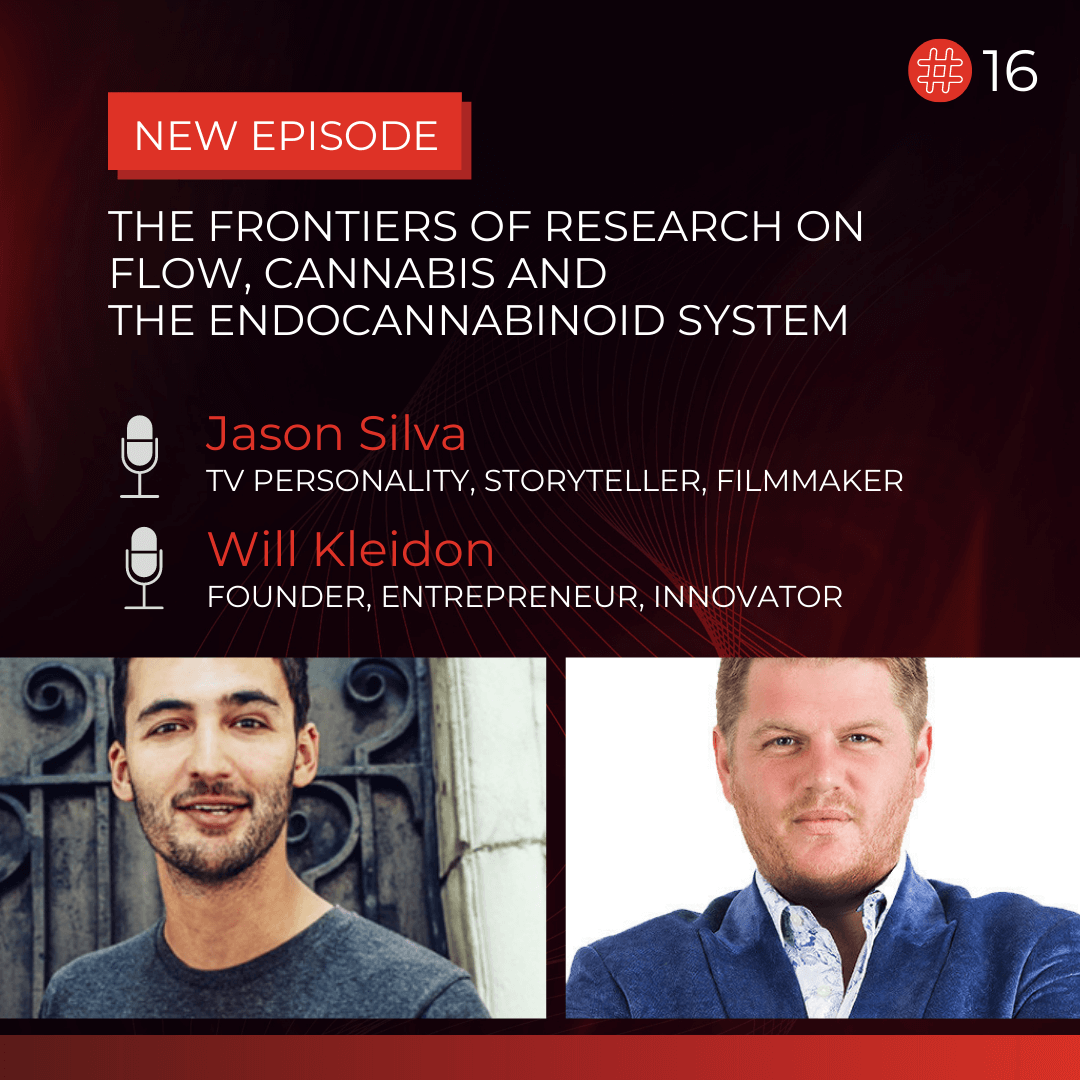 Join our flagship cognitive performance training.
👉 Zero to Dangerous helps you accomplish your wildest professional goals while reclaiming time, space, and freedom in your personal life.
Welcome to a new episode of the Flow Research Collective Radio with two seriously creative thinkers! 
Today, we have with us: Jason Silva and Will Kleidon.
Will Kleidon is an award-winning pioneer and futurist in the hemp and cannabis industry. Will is the founder of Ojai Energetics, a triple bottom line-driven cannabis technology company. 
Full disclosure: We are conducting research with Ojai and Steven serves on their advisory council. It is safe to say: We are fans.
Jason Silva is an Emmy-nominated and world renown TV personality, storyteller, filmmaker, and sought-after keynote speaker and futurist. 
He was the host of National Geographic documentaries: Brain Games and Origins.
You will know his talks and Shots of Awe videos on Youtube that made him widely popular in our community.
He is a long time friend of ours, here at the Flow Research Collective. 
We talk about trends about Cannabis, CBD, research. We also discuss creativity, flow, and the endocannabinoid system. 
It's kind of a wild and choppy conversation in some respects—we went all over the place but it was fun. 
OUR FLOW TRAINING
We are currently accepting new participants in our flagship flow training: 👉  Zero to Dangerous.
Our science-backed peak performance training is for entrepreneurs and knowledge workers like you wanting to accomplish their wildest professional goals while reclaiming time, space, and freedom in their personal life.
In Zero to Dangerous,
You'll work one on one with our Ph.D. level peak performance coaches. They'll help you implement flow practices and push you to where you want to go—and far beyond

You'll master the maps and models of peak performance through our online video course.

You will get lifetime access to weekly calls with our community of peak performing business leaders who provide you with accountability, support, and feedback.
After the training, you will be able to access flow states on-demand, so you can spend your entire workday in that hyper-focused zone and say goodbye to the distractions of politics, colleagues, and trivial nonsense.
To apply for Zero to Dangerous, go to 👉  getmoreflow.com/ to book a call with our team who will help you assess if is a good fit for you.
Rooting for you!